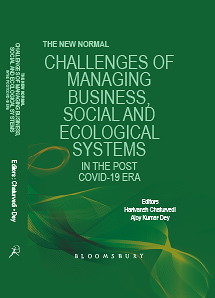 The New Normal: Challenges of Managing Business, Social and Ecological Challenges in the Post COVID 19 Era (Bloomsbury India, 2021)
When the COVID-19 pandemic hit, the world was caught unprepared. We had faced several disruptions including pandemic but not at this level. It brought everything to a grinding halt as nationwide lockdowns were imposed to stop the spread of infection. Businesses struggled, and then rose to the occasion to manage their work by redefining their business structure, work culture and strategies. This book has a collection of articles that are not just opinions and projections about future but phenomenon-based articles explored through theoretical lens and are not just limited to business and economy but ecological changes as well.
The authors who have shared their knowledge and research hail from Bangladesh, New Zealand, Pakistan, Sri Lanka, UK, USA and Vietnam beside India. The diverse background of authors that include University Vice Chancellors, Directors, Distinguished Professors, and Senior Executives from the industry brings their unique perspective and insights in the articles.

By: H Chaturvedi, Ajoy Kumar Dey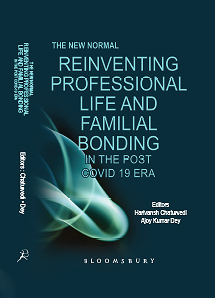 The New Normal: Reinventing Professional Life and Familial Bonding in the Post COVID 19 Era (Bloomsbury India, 2021)
Each article in the book demystifies the multidimensional impact that the pandemic has had on the professional and personal spheres of the human lives. The authors who have shared their knowledge and research hail from Austria, Bangladesh, France, India, Indonesia, Malaysia and USA. Further, the fact that the authors include University Vice Chancellors, Directors, and Distinguished Professors, suggests that the insights provided in the articles are unparalleled, diverse, boundaryless and unique. The 23 articles in this book are divided in 5 sections namely Families Disconnecting or Reconnecting, Disrupted Lives During Pandemic, Reflecting on Professional Life, Revisiting Organizational Culture and Well-being, and Business and Academia Surviving the Crisis.

By: H Chaturvedi, Ajoy Kumar Dey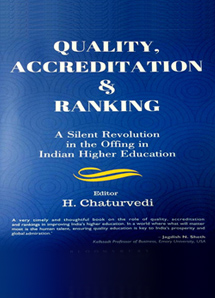 Quality, Accreditation, and Ranking - A Silent Revolution is in the Offing in Indian Higher Education (Bloomsbury, 2019)
The book was published by Bloomsburg Pvt. Ltd. listing articles, essays and research papers authored by some of the prominent educationists, policy makers, researchers and media persons with a detailed analysis of the past and present scenario in the Indian Higher Education.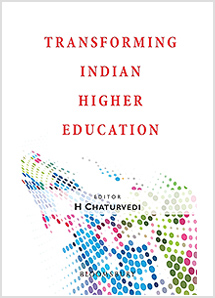 Transforming Indian Higher Education
(Bloomsbury, 2015)
Transforming Indian Higher Education is a collection of writings on Indian higher education by some of the leading educationists, policy makers, academic leaders and edu-entrepreneurs in the country. The contributors to this volume have not only critically examined the evolution of the Indian higher education, but also endeavor to provide a future perspective for coming decades.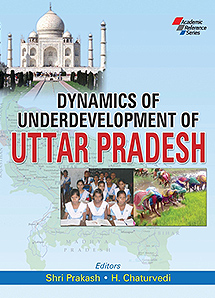 Dynamics of Underdevelopment of Uttar Pradesh
(Bloomsbury, 2012)
Traditional theory emphasized industrialization as a basic strategy of development. The Indian experience, however, shows that agricultural development of states like Punjab and Haryana enabled them to forge ahead in the race, while states like Gujarat, Tamil Nadu, Karnataka and Maharashtra made industrialization as the base of their relatively higher growth. But states like Bihar, Madhya Pradesh and Odisha remained the back waters of underdevelopment despite huge public investments in basic and heavy goods industries in the public sector. this backdrop is covered by a broader view of development and economic growth in this book which focuses on the dynamics of underdevelopment and development of Uttar Pradesh relative to the Indian economy and economies of five most developed states of India.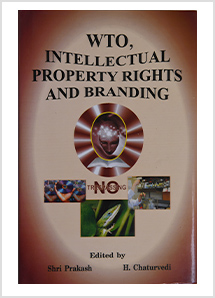 WTO, Intellectual Property Rights and Branding
(Har Anand, 2007)
This book comprehensively portrays the problems, challenges and threats posed by IPRs to indigenous business. It also examines the legal framework of IPRs and its implications for Indian business. The book highlights the potential benefits of the protection of IPRs to the Indian economy.

The book distinguishes product brand from company brand and analyses the intricate relation between i) brand building and IPRs, and ii) market positioning of brand. A sophisticated model/ method has been developed to determine brand value. The book goes deeper into the analytics of conceptual framework, theoretical paradigms and methodoligical complexities.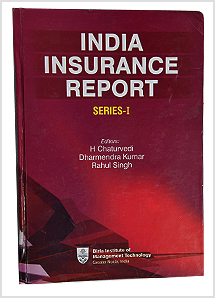 Indian Insurance Report
(Allied Publishers, 2003)
The post-liberalized insurance industry scene in India is witnessing dramatic changes in terms of new products and services, new channels of distribution, emergence of information technology as a service facilitator etc. The opening up of the insurance sector has resulted in players responding to market demands of choice and competition in a vigorous manner to augment their market share. To make sense of these bewildering and occasionally contradictory trends in the Indian insurance industry, there has been a long felt need for a comprehensive compendium-cum-reference or resource book, which also articulate the major concerns of important stakeholders in the industry.

This is a study of the Birla Institute of Management Technology with contributions from industry leaders, policy makers and world renowned researchers and academicians.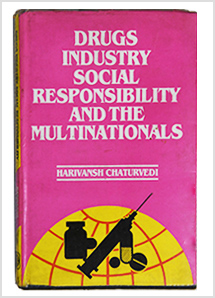 Multinational, Drugs Industry & Social Responsibility
(Commonwealth Publication, 1990)
This book contains the findings of empirical research made by the author on role and impact of MNCs on drugs and pharmaceuticals industry in India. The author has analyzed data on this topic gathered from various Govenrment sources and the industry.